Tradition and Innovation
Roofingreen Nature Side integrates the benefits of traditional ventilated façade systems with the beauty, performance and functional characteristics with its modular system. This results in green walls with a great impact, where the single pieces become an invisible part of a single vertical surface. The "air chamber" created by the space between the modular cladding and the existing wall generates a natural ventilation effect that significantly contributes that the energy saving performance of the building in summer. Furthermore, the panel system protects the building from direct sunlight and rainwater exposure, keeping the walls dry and clean. Roofingreen Nature Side is part of the new generation of green building technology, created to improve the benefits of green walls, in line with the existing growth trend in contemporary architecture.
As an alternative approach to the ventilated façade, Roofingreen Nature Side may be installed as the outer layer of a thermal insulation system generated by the cavity formed by the metal support structure.

Environmental Sustainability
Less power, no water, more recycling
Thanks to the insulating material embedded in the system Roofingreen Nature Side building can achieve significant energy savings. The modules do not require addition of irrigation and are constituted by a high percentage of recycled materials, which helps to limit the production of waste.
Economic sustainability
A system maintenance-free
Roofingreen Nature Side, compared to similar systems of natural green, represents a very competitive solution, which requires no maintenance and benefits from laying costs content. The durability of the product thus becomes a crucial element of environmental and economic sustainability.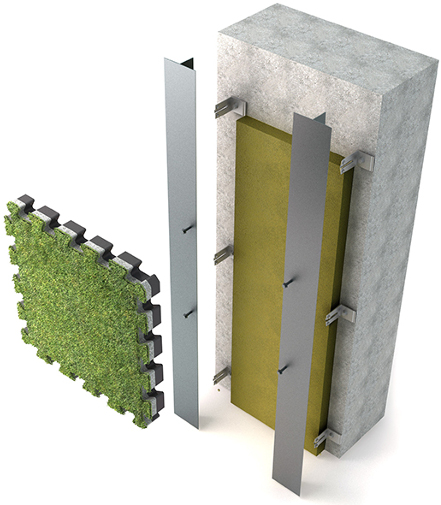 A double advantage
Savings and tax incentives
Roofingreen Nature Side, as well as being cheaper than similar solutions, benefits of the incentives for energy efficiency under the laws of various countries.
Thermal insulation and sound absorption
Roofingreen Nature Side generates a sound absorption wall that allows you to muffle the noise and create a sound environment more relaxing. At the same time, its thermal insulation system provides ventilation in summer and protection from the cold winter. For a total wellness, all year round.